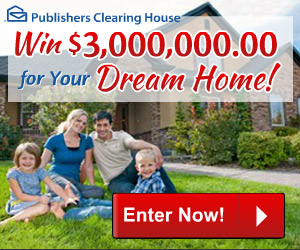 Enter To Win a $3,000,000 Dream Home!!
Head over to Publishers Clearing House and enter to win your Dream Home worth $3,000,000!


This post is sponsored by Lunchbox. All opinions are 100% Mojo's.
BOGO 50% off AXE Peace Products + $1 off Coupon + Win $50 Walgreens Gift Card!
All month long at Walgreens you can get the AXE Peace Products for Buy One Get One 50% off.
To help more shoppers join the Peace movement, AXE® Peace Recruiters will be in front of flagship Walgreens stores on September 21st to help enlist shoppers for Peace. They will be handing out special "Peace Offerings" samples and showing off the full AXE® Peace lineup. 
Also to help spread the word about the World Peace Day movement on September 21st, you can go here to watch their team hit the streets and spread the word of Axe® Peace through #KissForPeace. After you watch, you can print a coupon for $1 off two Axe® products at Walgreens.
Enter to win $50 Walgreens Gift Card

Win a Trip to NYC and meet Chef Alex Guarnaschelli
Enter the Fisher Nuts My Fresh Twist Recipe Contest for a chance to win a trip to NYC and meet Chef Alex Guarnaschelli.

Free $10 from Survey Companies + Enter to win $1000′s
Inbox Dollars - Free $5 to sign up
SendEarnings – Free $5 to sign up
VIP Voice – Enter to win $1000
e-Poll Survey - Enter to win $1000
Shopper's Voice - Enter to win $10,000
Tips to Remember:
1) You will definitely want to set up a separate email account just for surveys. A lot of the companies off you money for simply reading emails, which can accumulate to 3-6 per day per company. This will also prevent your personal account from becoming bombarded.
2) You won't "get rich fast" with any of them. They take time to reach the designated payouts that some companies requite. You'll need to definitely practice a little patience, but it's worth it when the checks show up!
3) Different companies offer different rewards. Some only payout with gift cards. Others you'll have to reach a designated threshold before you get your money. Others pay out in freebies. And you might get lucky enough to find some that payout a little of everything!
4) Always make sure a company is "legit". Ask around or look for those posted as recommendations from bloggers you trust. But always follow the rule of "Use Your Best Judgment" or "If It Sounds To Good To Be True…It Probably Is!" Never, ever pay a fee to join one!
5) You can use a program such as Roboform HERE that will automatically fill in data for you, saving you time. There's a free version that you can download.
6) It may not seem like your surveys are adding up to much so consider putting them in a separate high-interest account and watch them grow (and earn interest!). Think of it as your vacation/Christmas Fund!

FREE CoverGirl Clump Crusher by LashBlast Mascara at NOON EST! First 5,000!
September 15: CoverGirl Clump Crusher by LashBlast Mascara
September 22: Olay Total Effects Daily Moisturizer
September 29: Pantene Expert Collection Advanced Thickening Treatment
October 6: Secret Clinical Stress Response Deodorant
October 13: Aussie Hair Insurance Split End Protector

Win $5000 from Johnson & Johnson!
Take a picture of your young scholar's back-to-school hair style and click "Upload a Photo" to enter. One lucky winner will win $5,000!
Contest ends 9/10.

Sponsored post by Lunchbox all opinions are my own.
Simple Skincare BOGO 50% off + Win $50 Walgreens Gift Card!
Have you ever tried Simple Skincare products? I love them! These great products have NO parabens, NO dyes, NO artificial perfumes and NO harsh irritants. 
Keep your moisturizer light with Simple®, the expert on sensitive skin.
Radiance Cleansing Wipes

·       Our Radiance Cleansing Wipes are a perfect blend of gentle cleansers and mango extract to cleanse and remove impurities for natural healthy looking skin. Perfect even for sensitive skin.

Cleansing Facial Wipes

·       Our Cleansing Facial Wipes refresh and nourish your skin plus remove waterproof mascara. Our wipes contain a perfect blend of our purest possible skin loving ingredients with an added vitamin.

Replenishing Rich Moisturizer

·       Our Replenishing Rich Moisturizer leaves your skin replenished and nourished all day long, instantly doubling skin's hydration. Plus it's a perfect blend of our purest possible skin loving ingredients with an added vitamin.

Moisturizing Facial Wash

·       Our Moisturizing Facial Wash leaves your skin thoroughly cleansed and nourished, plus it's a perfect blend of our purest possible skin loving ingredients with added vitamins.

Simple Nourishing 24-hour Cream

·       Our non-greasy Nourishing 24HR Day/Night Cream, infused with our purest possible skin-loving ingredients and multi-vitamins, nourishes thirsty skin and carries on working for up to 24 hours. Leaving you with super soft and super smooth skin!
Right now you can get some great savings on Simple products at Walgreens! Get 2,000 Balance Reward Points when you purchase 2 or more participating Simple® Skin products at Walgreens. You'll also get 50% the second product with your Balance Rewards Card!
Plus, head to your local Walgreens on September 20th from 10am-5pm to get a $1 off coupon!
Enter to Win $50 Walgreens Gift Card!

Enter to Win Trip to SEMA with Al Unser Jr + Get Prizes for Referring Friends!
Head over and enter to win a trip for 2 to SEMA!
Plus, when you refer your friends to the sweepstakes, you can earn great rewards too!
Refer 5 friends – Pulstar Hat
Refer 10 friends – Free Pulstar Fender Gripper
Refer 25 friends – Free Set of Pulstar Plugs (up to 10)
Refer 50+ friends – Free Pulstar Pit Crew Shirt

Enter to Win $500 JC Penney Gift Card!
Upload a picture of your kid's self-expression with #ThatsMyKid and JCPenney might feature them on their social stage.

Plus, you'll be entered to win a $500 JCPenney gift card!

Free Scotties Facial Tissue Prize Pack Giveaway
Enter daily for you chance to win Free Scotties Tissue Prize Pack giveaway.
500 Prizes will be given away.
Ends 9/12/14.